February 27, 2021
Stine Student Awarded at National Palace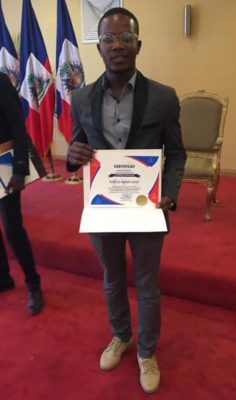 On January 21, 2021, Ralph Jean Baptiste Léon, a Good Samaritans student and recent graduate from James Stine College, was among a number of young adults who won a contest launched by the Ministry of Education.
The winners were welcomed and celebrated at the capital and will receive tuition assistance for their university studies as part of the prize.
Fr. Fritzer Valeur, Principal of James Stine College, stated, "Despite the instability around the country, the school continues to see good academic results. We never stop working to keep the torch of excellence held high. We are working hard to maintain the good reputation of the school and to build the story of CJMS."
Congratulations to Ralph and to the teachers and staff at the school for their continued hard work and academic excellence!