Dr. Mortel's Book
Check out Dr. Mortel's award-winning book!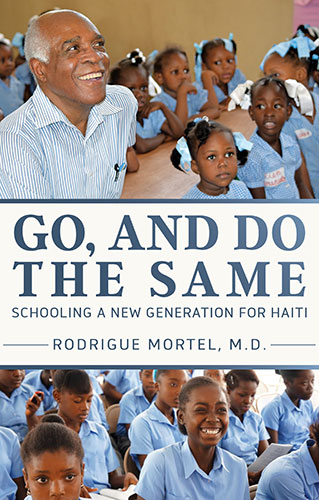 Read and be inspired.
Genre: non-fiction, educational, international
French version also available
Go, and Do the Same: Schooling a New Generation for Haiti
In Haiti, where 40 percent of the population is still illiterate, a good school is a beacon of hope. Unfortunately, those beacons are rare. Yet education remains the most effective way to climb from poverty and despair to opportunity and success. Rodrigue Mortel, M.D., traveled that road. He helped his unschooled mother resell rice and vegetables in various markets. Foremost among his mother's sacrifices was ensuring that her son received a good education.
Rodrigue attended primary, secondary and medical school in Haiti. He then entered the United States and became a world-renowned gynecologic oncologist. Dr. Mortel created the Mortel High Hopes for Haiti Foundation to empower through education the poorest of the poor Haitian children.
Go and Do the Same: Schooling a New Generation for Haiti (Cathedral Foundation Press, 2018, 104 pp) chronicles Dr. Mortel's attempts to bring opportunity and success to children in Haiti. It is the uplifting story and inspirational accounts of the students who have benefited from these programs.
Awards
Silver Medalist – 2019 Living Now Book Awards – recognized for the book's ability to enrich readers' lives, provide spiritual inspiration and promote global sustainability
Honorable Mention – Associated Church Press – "A good and informative book." 
Get Yours Today!
This is a powerful story of grit and perseverance – how a child of poverty in Haiti became one of the US's leading physicians. But it's even more valuable as a handbook to the most meaningful philanthropy any of us can join. I can't imagine a more high-impact charitable dollar than the one given to help Dr. Mortel's schools in Haiti. This ministry is changing lives – and "Go and Do the Same" is his playbook.

Tim R. (via Amazon)