February 28, 2018
"A Caribbean Celebration" A Success!
Thank you to all who made "A Caribbean Celebration" a Success!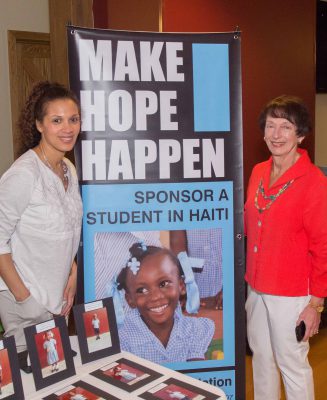 The rain and fog outside didn't dim the warmth and enthusiasm inside the Purcell Friendship Hall on Saturday February 10th at the Mortel High Hopes for Haiti Foundation's Caribbean Celebration!
Over 200 guests gathered in a packed-house to celebrate 20 years of the Foundation. Twenty years of building schools and educating the poorest of the poor to help create a new generation of Haitians who can change the future of their country.
In his remarks at the event, Dr. Mortel expressed his gratitude for all the support that has helped to bring the successes so far—including two students who are now employed as teachers in our preschool. He also helped paint a picture for the next twenty years, highlighting three goals to focus on for the next leg of the mission:
A growing number of University graduates who are highly trained professionals to shape Haiti
A focus on a trade school to form competent technicians for trades needed within the country
A program to build on the Haitian entrepreneurial spirit, with aspects of micro-finance and artisanship
In between the dancing, the silent auction, the folkloric dance performance by Capital Area School for the Arts (CASA) students, and the Caribbean feast, Dr. Mortel encouraged all to consider joining us in building the next 20 years together. He invited all to come visit our office in Harrisburg to learn more or to sponsor a student. Moreover, he invited all to join us on a visit to Haiti to see first-hand the fruits of this labor but also to see the HOPE that has always been the focus of the Foundation and that is so easily found in the faces of the children there.
Thank you to all who helped make the event such a success and to all those who helped shape the last 20 years! We can't wait for you to help us along the path for the next 20!
Interested in getting more involved or learning more? Contact us at: info@mortelhhh.org