December 8, 2022
Tribute to Dr. Mortel–Special Celebrations in Haiti and the US!
December 3rd has always been a day of celebration for our team in Haiti.  It is the anniversary date for the Good Samaritans School (now in its 21st year of operation), it is the Feast of St. Francis Xavier, the patron saint of the missions and the patron saint of the School. In addition, it is Dr. Mortel's birthday!
This year, with schools closed and political turmoil causing so much havoc and hardship in Haiti, there was little hope for an opportunity to gather and celebrate like in years past. 
Yet, blessings occurred in the midst of tough times!  
Schools opened unexpectedly a few weeks ago and the dedicated and determined Haiti team pulled off one of the biggest celebrations the School has ever seen! The HHH team's goal of simultaneously honoring Dr. Mortel on December 3rd, both in the US and in Haiti– two countries that he loved– was a huge success!
The celebration in Haiti was nothing short of amazing.
Nearly 1,000 people participated including students, parents, alumni, teachers, and staff from all of the Mortel HHH schools. Mass was celebrated in the Good Samaritans courtyard, followed by a reception. The program included singing, dancing, and special comments about Dr. Mortel. Despite not being able to travel to join in person, a letter from the Mortel HHH President, Denise Mortel Mitchell, was shared with the crowd, detailing the US event plans, expressing gratitude and admiration for their perseverance during such difficult times, and reminding them that Dr. Mortel deeply loved them and the community of St. Marc.  
In Hershey, PA later that day, about 170 people gathered for an "Evening in Tribute to Dr. Mortel."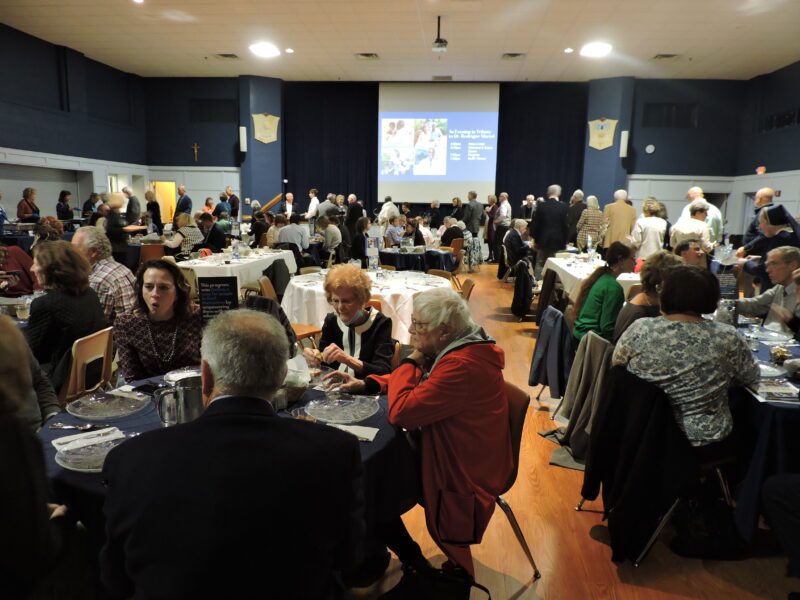 Like in Haiti, Mass was celebrated, followed by a reception that featured a variety of Haitian and American foods. The Mass was presided by Bishop Ronald Gainer, Bishop of Harrisburg, alongside Fr. Al Sceski and the other priests and deacons of St. Joan of Arc parish. At the reception, four guest speakers shared their personal stories of how they knew and loved Dr. Mortel as Deacon, Doctor, Philanthropist, family man, and friend. Everyone commented on the positive and significant ways that Dr. Mortel impacted their lives, as well as the warmth of his smile, his laughter, and his inspiring love of God and service. Many more attendees also shared their stories on notecards designed to capture these memories so Dr. Mortel's legacy can live on. Additionally, to honor Dr. Mortel's passion for feeding the hungry, guests brought donations of canned goods totaling 315 pounds to donate to the Hershey Food Bank.
We are grateful to the many friends, volunteers, students, teachers, families, and staff who made these celebrations happen. It truly was a beautiful day to honor Dr. Mortel, united despite the ocean between us.