April 22, 2019
Local Nonprofit Announces Art Contest for Central Pa. Students
Contest to Connect Haitian and Regional Students Through Art & Education
HARRISBURG, Pa.—The Mortel High Hopes for Haiti Foundation, a nonprofit organization providing education, preventative health care, nutrition and support to the poorest of the poor children in Haiti through three Saint Marc schools, announced today that the organization is sponsoring a Central Pennsylvania art contest to give students in grades 3 – 12 the opportunity to Connect Cultures Through Art and Education. The contest requires participants to enter unique artwork that reflects their interpretation of the importance of education.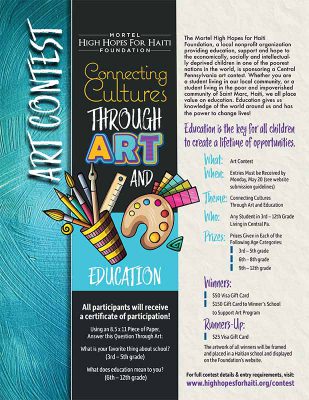 "Whether you are a student here, living in a local community, or a Haitian student living in a poor and impoverished community in Saint Marc, we all place value on education," Dr. Rodrigue Mortel, Founder of the Mortel High Hopes for Haiti Foundation, said. "For children all over the world, education is the key to creating a lifetime of opportunities."
The contest participants will be classified into three categories including 3rd– 5th, 6th— 8thand 9th— 12thgrade. The Elementary school category will create art in response to the question, "What is your favorite thing about school?" and the Middle and High school categories will respond to the question, "What does education mean to you?" The contest requires participants to enter artwork using an 8.5" x 11" piece of paper and encourages a brief explanation and/or description of the entry. All participants will receive a certificate of participation.
A winner and runner-up will be selected from each of the three grade categories. Winners will receive a $50 Visa Gift Card.  In addition,a $150 gift card will go to the winner's school to support its art program.  Runners-up will receive a $25 Visa Gift Card.  All winners will have their artwork framed and placed in a Haitian school and displayed on the Foundation's website.
"The goal of the art contest is to provide young people with an opportunity to use their artistic abilities to connect with different cultures through art and education," said Dr. Mortel. "The local art contest will be duplicated in our Haitian schools with the hopes of displaying winning artwork in both Haiti and Central Pennsylvania learning environments.  Education gives us knowledge of the world around us and we want all students to believe that education has the power to change lives," he added.   
Interested participants are encouraged to enter the Connecting Cultures Through Art and Education Art Contest online. Entries must be received by Monday, May 20, 2019 upon which three lucky winners and runners-up will be selected by a panel of distinguished area judges based on interpretation of the theme, technical skill and originality of their entry. For full contest details and entry requirements, visit: www.highhopesforhaiti.org/contest.
About the Mortel High Hopes for Haiti Foundation
Founded by Dr. Rodrigue Mortel, the Mortel High Hopes for Haiti Foundation is a certified charitable organization with the mission to form a new generation of Haitians who are empowered through education to lead self-sufficient and productive lives and to become responsible citizens and community leaders. As a Haitian child who experienced poverty, Dr. Mortel made education his personal mission.  He attributes his successes as a world-renowned gynecologic oncologist, author, and philanthropist to his commitment to education.
For more information about the Mortel High Hopes for Haiti Foundation, visit the website at www.highhopesforhaiti.org/, call 844-466-7835 or connect on Facebook, Instagram and Twitter.