In Memory of Dr Rod Mortel
April 25, 2022
In Memory of
Dr. Rod Mortel
It is with a heavy heart that we share with you that on Friday, April 22, 2022, the Mortel High Hopes for Haiti Foundation Founder and President, Dr. Rodrigue Mortel passed away. A prominent force in the lives of so many, both in the US and in Haiti, his absence will be greatly felt across the globe.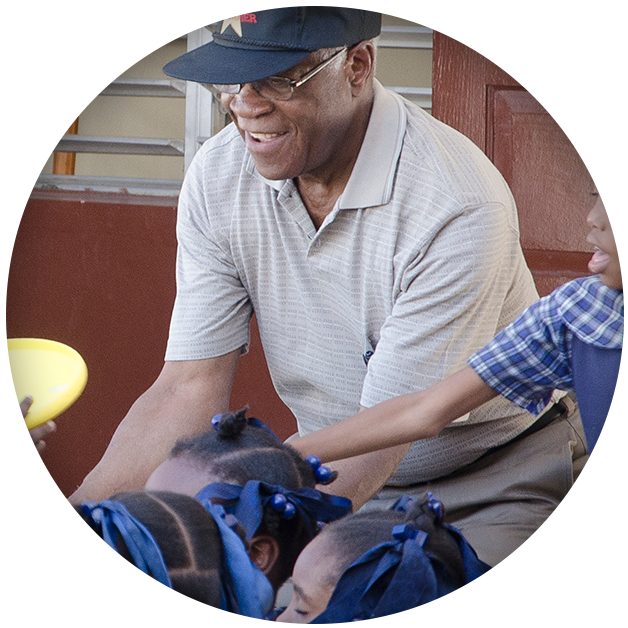 Submit Your Memory of Dr. Mortel
Submit Your Story
Stories of Dr. Mortel
Latest Stories
Kim King

When you meet Dr. Mortel his vision becomes your vision, his dreams become your dreams, and his philanthropy becomes your philanthropy. He spread so much love and laughter wherever he went. My husband and I knew Dr. Mortel for many years from the Hershey Medical Center and from St. Joan of Arc as our deacon. As a French teacher, I always spoke French with him. When I retired from teaching and saw Dr. Mortel at a HHH fundraising event, he said that he needed me. He called me two days later and I began translating and working with the Foundation. I still hear his voice as he called me "Keem" with his delightful Haitian accent. I will continue to honor and cherish Dr. Mortel and his mission for the rest of my life.

Carolyn Williams

Both my husband and I had contact with Dr. Mortel . For a time I was the Gyn. Oncology social worker on his team. At first I was very nervous to be in the presence of this renowned man but I needed not to worry. I was always treated with respect and what I learned from him was amazing. When I obtained a copy of his first book and was no longer at the Medical Center my husband asked him to sign it for me and I will always treasure those words. In one's lifetime one does not often meet a man with so much energy and talent and personality. I am honored that our paths crossed and my love and respect for him will always be as part of my memories.
Carolyn Williams

Glenn Falcao

Rod was was one of the most generous people I have ever met. He had a vision for educating the children of Haiti, and no obstacle would prevent him from achieving his goals. I had the privilege of traveling to Haiti to see the children and the school. What he was able to accomplish against considerable odds, was extraordinary. Haiti and all those who encountered him are better for having encountered this great man!

Jean and Dick Bastable

There comes a time in many people's lives (if you are lucky) when you meet and associate with another human being that is truly Special. For us, it was a Doctor from Haiti. Dr. Rod was a humanitarian who touched many people's lives in an incredible way.
Our sincerest condolences to his wife Ceil and their grown children.
May he Rest In Peace.
Jean & Dick Bastable

Rosemary Connolly

Dr. Mortel was always interested in the other persons well being. When we served together at Mass, he as the Eucharistic minister and I as the lector, he was always interested in my health status . After he learned about some problems I was having he would inquire and offer advice. His friendship was valued by all as a special person and professional.
May he enjoy everlasting peace.

Vladimir R. Beaufils

The more I learned about this amazing man, the more I fell in love with who he was and his heart for our country, Haiti. Having traveled throughout Haiti many times, learning that he was from St. Marc and the school was there, drew me even closer to him and his lovely wife.
Needless to say, I have been very saddened hearing of his passing. I've had dreams of things we could accomplish in Haiti together.
My prayer is that those who have been trained and inspired by Dr. Rod will be zealous in continuing the legacy he has left to those who follow. I encourage all who knew him and those who care about the children of Haiti to please continue to offer your prayers and resources to this worthwhile cause.

Willis Gunther Baker

Joy and Love. And that smile. One of my greatest memories occurred in Haiti at the 10th Anniversary of Les Bons Samaritains. After we marched through the streets of St. Marc with the children, we entered the school courtyard and the children swallowed up Dr. Mortel and raised him in the air. As a photographer, I was able to capture the moment of absolute joy and love. What a legacy he has left. He will never be forgotten. Godspeed, my friend.

Adeline Felisca

I don't have the strength to overcome the death of my darling 'dad'. He meant so much to me. if I've become someone respectable today it's thanks to him and through his education. Dr Mortel, you were our model. May God welcome you into his beautiful home. You will always stay in my heart

William A Nahhas MD

Dr. Rodrigue Mortel was my partner in training as a Gynecologic Oncologist at Memorial Sloane Kettering Cancer Institute in New York in 1969 and 1970. ⁹ In 1975 he rescued me from the civil war in my country of Lebanon and I again, for the next eight years, became his partner in practice at The Hershey Medical Center.

More than any other friend and colleague, Rod Mortel shaped my life and my career. I can safely say that if it were not for him, I would not be where I am today.

Au revoire mon ami. May God shine His face upon you and give peaceful rest.

In appreciation,

Katelyn Leader

Whenever you are with the Mortels, you feel like family, and Dr. Mortel makes you realize that everything is possible, if you just start somewhere. It's a mindset that I took to heart and strive to practice in my own life.

Dr. Mortel and I occasionally met up for a coffee at the Cocoa Beanery in the following years. I loved hearing about his latest projects and milestones, and he shared important insights into my own research.

I will never forget Dr. Mortel, especially his smile, kindness, and commitment to others.

My thoughts and prayers are with you during this difficult time.

Meredith Arterburn

Dr. Mortel lit up every room he was in with his joy, passion, and love. In a middle school project for a language class, we had to write about one of our heroes. I wrote about Dr. Mortel. He was such an inspiration to me growing up in his dedication to the Haitian community and his hard work and perseverance. I know he is a hero to so many others, and he will be greatly missed but never forgotten.
---